GAMA Trade Show 2012 Exhibitors and Vendors Link List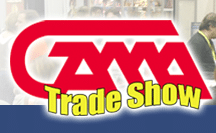 RPGs, board games, computer games and everything in between are on offer at this year's Game Manufacturers Association Trade Show 2012 in Las Vegas.  Here is my yearly list of exhibitors and their respective websites, as well as  a short description of the company.  The show runs from March 12th -16th at Ballys and I am attending. Expect some live-blogging during the show and more detailed reports in the days after the show ends. I am especially interested in the WOTC seminar  to gauge retailer response to the 5E announcement.
If anything on this list is incorrect or if a vendor would like to add a smaller banner or update their description, please let me know and I will be happy to make the change.
I am also looking for sponsors to help offset expenses for this trip, so if you are a company interested in sponsoring my coverage, please drop me a line.
UPDATE: The List is now current as of the 3-4-2012 exhibitor list.
Trask
2012 Game Manufacturers Association Trade Show Exhibitors

EXHIBITOR

DESCRIPTION

5 Straight Products
A copyrighted a board game Ted Thomas. A strategy board game involving cards and pegs. The board was made out of 11" x 11" particle board, drilled with 100 holes, and stained in black.
42 Games
Board game publisher of Rocket Race and Orbit.
Academy Games
Academy Games develops and publishes tactical training and strategic board games for historical enthusiasts, universities and military personnel. The games are quick to learn, tense and fast playing.
ACD Distribution
A company that distribute thousands of board games, role playing games, dice, cards, fantasy and science fiction miniatures, historical board games and miniatures, modeling tools, and card storage supplies from over 300 of the industry's top manufacturers.
Acrylicos Vallejo
Provider of fine arts products for the professional artist, produts for decorative arts and products for model and miniatures.
Action-Sports
search criterion too broad
Alderac Entertainment Group
Producer of Games and Game Worlds for 15 years, it is a publisher of role-playing game and collectible card game products. AEG was formed by Jolly Blackburn in 1993 and is based in the city of Ontario, California.
Alliance Game Distributors
Claims to have complete source of all consumer gaming needs.It is a full service game distributor serving retailers all around the world.
APE Games
APE Games has been publishing fine board and card games since 1997. Upcoming game called Rolling Freight is a game of building rail and shipping routes, and moving cargo across those routes.
Arcane Wonders
Known to have the developed the game called Mage Wars.
Army Painter, The
The Army Painter share a total of 36 years of gaming, painting and conversion experience.
Asmodee
Asmodee is one of the most important boardgames and Trading Card Games distribution companies in Europe. Asmodee is active in France, Germany, Benelux and Spain and is well known as a games publisher, globally successful in board games, the most famous of which is Jungle Speed .
Asylum Miniatures
A new approach in the world of Pre-Painted Plastic Miniatures: non random, non-blind packaging, and continuous release.
Bag-O-Loot
Publisher of the "Bag-O-Loot" family card game.
Atlas Games
Atlas Games offers a wide selection of great pastimes for experienced gamers, hobbyists, and families. Our award-winning products are some of the most respected in the industry.
Baksha Games
Uses PSI consolidation services, to major game distributors.
Bandai
Is a Japanese toy making and video game company, as well as the producer of a large number of plastic model kits.
Battle Foam
Battle Foam specializes in custom cut foam packaging for miniatures, weapons, medical equipment and many other applications. Battle Foam also manufactures custom transportation bags and containers.
Battlefront Miniatures
Battlefront brings the third installment of the world's most popular World War II miniatures game that offers and enjoyable historical tactical challenges, while improving the speed of play and how the rules are presented.
Blue Panther
Blue Panther was founded in 1988 makes a true print-on-demand games in wood and other materials. Armed with a laser engraver, Blue Panther self-pulbished its first titles, Courtyard and Central Pacific.
Board Game Designers Guild of Utah (BGDGU)
A group of local game designers, visual artists, and board game enthusiasts in the greater Salt Lake area who meet together regularly for prototype play-testing and discussion concerning various topics in board and card game design.
Bushiroad Inc
Planning, design, and development of card games, game software, and character products; production of videos and visual content
Castle Games
Castle games online are a small gaming niche that took shape after the introduction of crush the castle from Armor Games.
Catalyst Game Labs
Catalyst Game Labs is dedicated to producing high-quality games and fiction that mesh sophisticated game mechanics with dynamic universes—all presented in a form that allows beginning players and long-time veterans to easily jump into our games and fiction readers to enjoy our stories even if they don't know the games.
Chessex Manufacturing
Chessex brings uniformity of size, number marking and shape amongst dice.
Chivalry Games
Publisher of Chaostle; a three-dimensional castle fantasy board game. Each player selects their starting armies that they will use to battle against their enemies in an attempt to conquer the castle for their King or Queen.
Cleveland Kids
search criterion too broad
Collins Epic Wargames
Is a publisher of traditional board, card, and miniatures games. It has game stores across the USA, Germany, Spain, UK, and direct orders.
Cool Mini Or Not
The Internet's largest gallery of painted miniatures, with a large repository of how-to articles on miniature painting.
Crash Games
Crash Games is a new board game design / publishing company located in Phoenix, Arizona! We are committed to community, quality and excellent playing games. We are comprised of lifelong gamers that are driven by passion and creativity!
Creative Foundry Games
The Creative Foundry is a digital media company. Delivering creative media solutions for video, photography, graphic design and digital effects.
Creative Play Program
conflicting search results
Cryptozoic Entertainment
Cryptozoic Entertainment makes games, comics, magazines and trading cards based on both high quality original content and some of the most popular entertainment brands in the world. Products are available worldwide, and we have a volunteer community engaged in supporting their local communities.
Crystal Caste
Crystal Caste offers the adventure game player something no other dice manufacturer does: a totally new shape for polyhedral dice. A dice in the shape of geometric crystals.
CrystalCommerce
Founded in early 2006, crystalcommerce grew from the belief that anything is possible, built using the same practices of their software that is most known for.
Cubicle 7
Cubicle 7 Entertainment is primarily concerned with the gaming and media markets. Publishes a variety of games (Role Playing, Card and Board games) based on both original and licenced backgrounds.
Decision Games
Is the publisher of Strategy & Tactics magazine, the military history magazine with a game in every issue. In addition, Decision Games publishes a line of board games, books, and computer games on military history. Decision Games also provides production support and distribution of two other lines of military history games: SPW Games and Excalibre Games.
Dream Pod 9
A Montreal-based Canadian game publisher. In addition to games, they have been known to work on special projects, creating worlds and stories to order for a variety of clients.
Eagle Games
Created to appeal to game players looking for light-to-medium-weight strategy games, either to play in families, between "heavier" games at a long game-playing session, or for use in the classroom or library
Early Productions
search criterion provides zero result
E-figures.com Distribution
E-figures is an e-commerce portal for hobby miniatures and gaming supplies for brick and mortar retailers. It also acts as a gateway of information between both manufacturers and retailers.
Fireside Games
Dedicated in creating fun, innovative, accessible board games that everyone can enjoy.
Flying Buffalo
An award winning makers of the Tunnels & Trolls RPG, Nuclear War card game, Death Dice, and founders of the play by mail (PBM) industry.
Flying Frog Productions
Flying Frog Productions is a premiere gaming company dedicated to making fun, fast-paced, and exciting games. Each game is rooted in a particular genre and conveys a cinematic gaming experience.
Free RPG Day
For Free RPG Day, Impressions Advertising & Marketing works with participating hobby game retailers and RPG publishers to bring new RPG Quickstart Rules and Adventure Modules into the hands of gamers.
Gale Force 9
Seller of terrain and other miniature gaming accessories.
Games Workshop
Games Workshop is the largest and the most successful tabletop fantasy and futuristic battle-games company in the world.
GameScience
GameScience precision dice are precision-tested and razor-edged (with sharp points!) because they have not been tumbled or sanded.To smooth down the spot on your die that is rough from being broken from the sprue, simply use hobby/automotive sandpaper.These sharp-edged dice are better than the egg-shaped round-edged imported dice because they will roll accurately
Gary Games
Developed by Pro Tour Champions Justin Gary, Rob Dougherty and Brian Kibler. It features multiple factions, demons, heroes, and constructs from different planes in a battle to determine which player will ascend to godhood.
GHQ
Has one of the largest collections of military models.
Global Games Distribution
A wholesaler of hobby game products. Dedicated to supplying independent small businesses, Global Games carries an extensive and unique line of major board games, as well as small press offerings and imports.
Gorilla Games
Creator of Battlestations, a game of heroic starship adventure.
Grandpa Beck Games
Publisher of "Cover of Your A$$ets" and "Golf" card games.
Greater Games Industry Catalog (GGIC)
GGI is a reference for retailers, publishers, buyers, and distributors. The reference is the only comprehensive collection of information on game publishers, manufacturers, and importers.
Green Ronin Publishing
Green Ronin has been publishing award winning roleplaying games, card games, and more since 2000.
Gryphon Games
Provides emphasis on high-quality art and superior graphics and production values. The game play is always snappy and innovative.
GTS Distribution
Specialize in servicing small retail and specialty stores and no order is too small and none too large. GTS Distribution is a true full-service, wholesale sports & entertainment collectibles distributor, dedicated to the success of our customer's businesses and their futures.
Hobby-Q
United States distributor of their wildly successful CollectA figurine line. Perfect for collectors, the young, and the young at heart!
IMAGO USA
The Imago Group is the leading international book and print production services company linking businesses around the world with the best sources of supply for their products.
Impact! Miniatures
Impact! Miniatures brings a mix of miniatures that they felt were missing along with conversion sprues to help gamers make better custom pieces
Impressions
Impressions handles the sales and shipping for approximately 50 game companies to over 40 distributors and 2,200+ retailers worldwide.
Konami
A leading, global developer, publisher and manufacturer of electronic entertainment properties, specializing in the home video game market.
Koplow Games
Koplow Games "The Nice Dice Company" is a full line supplier of fice and game accessories. Novelty line includes loaded dice, round dice, mini dice, sweetheart dice, wood dice, crooked dice, dice bones and more.
Legion Supplies
Organize events primarily for collectible card game events, working as a contractor to game companies to promote their games through events.
Lion Rampant Imports
Lion Rampant Imports is a full service game distributor operating out of Hamilton, Ontario, Canada. It distributes a full range of family board games, educational games, strategy games, dice, paints, collectable games, and miniature games.
Looney Labs
The company was founded in 1997 by Kristin & Andrew Looney and a publisher of a card game called Fluxx.
Mayday Games
An industry professionals that design & produce top quality card sleeves & game accessories that elevate every gamer's gameplay.
Mayfair Games
Mayfair Games is a Skokie, Illinois based corporation, publishing award winning board games and card games since 1980. Known for games played by hobbyist and families alike, Mayfair is the exclusive English language publisher of the Catan family of products and stands as the largest publisher of railroading games on planet earth. Mayfair Games also publishes games from partners such as Kosmos, Amigo Games and Lookout Games.
Merchant OS
An Internet based system that quickly and easily manage sales, inventory and customer records.
MYNDzei (Mind's Eye Games)
Is an independent RPG gaming advocate that seeks to ensure the survival of the independent RPG scene and the RPG community at large.
Nested Egg Gaming
Nested Egg Gaming is the premiere source for licensed and original printed gaming mats. Including the popular Double Dragon.
North Star Games
North Star Games brings friends and families together with fun, innovative party and family games.
Numbskull Games
Numbskull Games is a relatively new game company, founded in 2008. A new player in the "Adventure Game Market" dedicated to make an impact by creating revolutionary and uniquely styled games.
OffWorld Designs
Offers pre-printed designs, Custom Printing/Embroidery and Convention Souvenirs.
On The Lamb Games
On The Lamb Games is a small, privately held, company located in Palm Coast, FL producing entertainment and hobby materials. Started as a game company producing roleplaying games with mechanic.
Origins Awards
The Origins Awards are American awards for outstanding work in the game industry. They are presented by the Academy of Adventure Gaming Arts and Design at the Origins Game Fairon an annual basis.
Osprey Publishing
Osprey Publishing has been providing books for enthusiasts since 1968 and since then it has grown, evolved and taken on new challenges until it stands today as one of the most successful examples of niche publishing around.
Outrider Hobbies
Outrider Hobbies produces high quality, custom foam trays and a variety of miniatures cases for the generic use of almost any miniatures game
P.O.W.E.R. Core Games
no results found
Paradigm Concepts
Paradigm Concepts, Inc, Origins-Award and Ennie-Award winning publisher of Arcanis, World of the Shattered Empires and Witch Hunter: The Invisible World, is unveiling the Arcanis, World of the Shattered Empires RPG with a new and updated system.
Peachstate Hobby Distribution
Hobby game distributor
Petroglyph
Petroglyph Games is a video game publisher and video game developer based in Las Vegas, Nevada, United States. Petroglyph is primarily known for their experience in RTS game development as the company's founding members worked on Command & Conquer, Earth & Beyond and Dune II.
Pinnacle Entertainment
Pinnacle Entertainment, Inc. is a leading owner, operator and developer of casinos and related hotel and entertainment facilities. In March 2010, Pinnacle opened its newest casino, River City, in south St. Louis County, Missouri. Pinnacle also is developing a casino in Baton Rouge, Louisiana.
Playroom Entertainment
Playroom entertainment is dedicated to making games that are easy to learn, fun to play and encourages life's fundamental skills, from strategic planning and logical thinking to social interaction and amusement.
Publisher Services Inc
Publisher Services Inc. (PSI) is a leading North American sales and fulfillment service organization enabling greater sales for small to medium-sized publishers to mass market, book trade, and specialty retail channels.
Pulp Gamer
Pulp Gamer is a modern media company dedicated to building a bigger and better hobby of tabletop and socially interactive games such as board games, card games, and roleplaying games and the community that surrounds them.
Reaper Miniatures
Reaper Miniatures is a leading hobby and adventure industry company. Their primary focus is the design and manufacture of pewter miniature figurines, paint and accessories for hobbyist around the world.
Rhema Re-Creation
no results found
SlugFest Games
SlugFest Games are dedicated to providing customers with hours of good, clean and fun games. They strive to make games are easy to learn and easy to play. Each game is play-tested each to ensure that they will provide hours and hours of fun.
Smart/Tangoes USA
Tangoes® is a learning tool that combines artistic and mathematical elements to enhance visual perception ability, develop problem solving skills, creative thinking capacity, and teamwork.
Smirk & Dagger
We know why you play games. It's the same reason we do. We love to taunt. To instigate and watch the sparks fly. We love 'opportunity fire' and the taste of revenge. We know games are a lot more fun when you can stab a friend in the back. And we've built our company on it.
Southern Hobby Supply
Is a full service Master Distributor for over 50 different Sport and Gaming manufacturers. We have everything from Upper Deck, Topps, Panini, Press Pass, Wizards of the Coast, White Wolf, McFarlane Toys and Board Games.
Square Shooters
Makers of the 9 Square Shooters® Dicethat are printed with afull deck of 52 cards plus 2 jokers.
StarCityGames.com
The StarCityGames.com team travels the world and scours the internet to ensure the lowest pricing in the industry! We never follow prices in price guides; instead, we set the prices that you'll see reported in the guides two months from now!
Steve Jackson Games
A publisher of games, books, and other entertainment and information, both on paper and online. Best known for the GURPS roleplaying system, Car Wars, Munchkin, Illuminati, and Ogre.
Stratus Games
Stratus Games produces original board and card games of the highest quality that are easy to learn, interactive, and thought-provoking. Our games are engaging and fun for children and adults alike and are perfect for friends and families to enjoy together.
Studio 2 Publishing
Publisher of Shard, Deadlands, Savage Worlds and many other role-playing games.
Stronghold Games
Produce high-quality board games in the industry. Stronghold Games is a business consists of game publishers, game developers, game designers and gamers.
Studio 2 Publishing
Studio 2 is a sales/marketing and fulfillment service for other companies that need those services. Studio 2 sells globally and covers many different marketplaces, from small market "Mom and Pop" stores to book trade to mass and global marketplaces, and even the exploding internet sales market. Studio 2 can offer many different levels of sales and marketing services for companies that have very specific needs.
Tartan Grizzly
Creators of My Precious Presents or Pamplona: Viva San Fermín.
TCGPlayer.com
Seller of collectible card games
Try, Try a Game
Website down
Valley Games
Valley Games Inc is a game publishing company originally composed of two game store owners: Rik Falch and Torben Sherwood. The Valley Games team frequents sites such as BoardGameGeek, meeting gamers from all over the world. In fact, it is often the gamers on such sites that motivate the team to seek out and reprint some of the greatest games from the past.
VicTim Games
VicTim Games LLC is a game company based in Norman, Oklahoma. We are in final development of our first title: ScrumBrawl – a sport where fantastic creatures vie for supremacy within the Arena, scoring goals by maneuvering various types of orbs into portals or fighting other creatures to the death to prevent them from scoring.
Wattsalpoag Games
Wattsalpoag is a board game company located in Bellevue, Washington, USA. "With All This Talent Sitting Around, Let's Put Out A Game!" officially became Wattsalpoag Games in 2006.
WeaselPants Productions
WeaselPants Productions is a new tabletop game company. They are about to release Redshirts, an exciting and twisted new card game.
WildFire
Publisher of the Cthulhutech RPG
Wizards of the Coast
Is an American publisher of games, primarily based on fantasy and science fiction themes, and formerly an operator of retail stores for games. Originally a basement-run role-playing game publisher, the company popularized the collectible card game genre with Magic: The Gathering in the mid-1990s, acquired the popular Dungeons & Dragons role-playing game by purchasing the failing company TSR, and experienced tremendous success by publishing the licensed Pokémon Trading Card Game.
WizKids
Wizkids makes HeroClix, the biggest selling collectible miniature game ever, and some of the best selling board games available.
WorldWise Imports
Provides catalog thatincludes chess, checkers, backgammon, cribbage, go , poker supplies, casino accessories, poker chips, etc.We are also the publishers of CURSES!, AbraKIDdabra, CURSES! of the Vampire, Thinklers and Poker Night.
Wyrd Miniatures
Wyrd Miniatures, LLC is a small, privately held, Atlanta-based company producing entertainment and hobby materials. Wyrd Miniatures started as a miniature company for painters looking for something unique for their creative outlet. The company has grown to include the new tabletop skirmish game, Malifaux and other hobby-based activities such as several painting contests every year.
X Plus Products
no results found
Zobmondo! Entertainment
Party game publisher
Zvezda LLC
The Russian company "ZVEZDA" develops, produces and sells wargames under it´s own label and general boardgames under the label "SIRIUS".

SERVICE KIOSKS

CCandC Online
Established to bring together a solution for multiple business needs in one place. Services offered include POS Equipment, Terminal Supplies, Payroll Services, Check Services, Gift Card Software, Merchant Cash Advance, eCommerce Credit Card Payment Gateways and Merchant Services.
Cynergy Data
Cynergy Data today is one of the country's foremost payment services providers, managing a portfolio of over 100,000 merchants processing in excess of $10 billion annually. Cynergy Data is owned by the Comvest Group, a leading private investment firm focused on providing debt and equity solutions to lower middle-market companies.
Legends Group
Legend Group is a full service investment planning firm offering: A wide range of investment options (including mutual funds and annuities from many nationally recognized fund and insurance companies), Retirement accounts for many plan types, Solutions for retirement plan sponsors, Investment advisory services, College savings plans, Insurance products and Non-qualified investments.