GAMA Trade Show 2012–The Day After
Actually, it is a couple of days after, but close enough. Once again I braved  Las Vegas, the real-world version of Mos Eisley spaceport for all the latest in gaming news at the Game Manufacturers Trade Show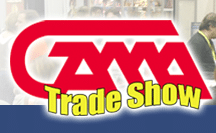 2012.  Over the next week I will post reports on the multitude of vendors and other happenings. Unlike the last two years, I will curate the posts more carefully and exclude some vendors.  Vendors that did not have some new product or announcement will not make the cut. I am also exercising my prerogative as the guy who owns this site to give more coverage to smaller companies and start-ups. Normally I do my  best to be even-handed when covering the game industry, but in doing so large companies overshadow  smaller publishers because they have a bigger presence  at conventions, trade shows and other marketing opportunities.  My posting selections in the days ahead will reflect this bias.  You are warned.
I arrived at Bally's Wednesday morning and hoped to attend the Wizards of the Coast seminar, but it appeared cancelled. Turns out there was a signage mix-up and the seminars went off without Trask. I really wanted to hear what WOTC had to say about 5E, but it is so early in the process I doubt I missed much and their Kaijudo  card game did not really register as a critical announcement. I hope to have better luck at Gen Con 2012.
GAMA deserves credit for pulling off the show with minimal issues and I thought everyone was generally happy with the show. That is not to say it was flawless. For some reason the exhibitor hall and the seminar rooms were on opposite sides of the hotel which was a bit annoying. On Wednesday a restaurant convention occupied the space next to the exhibitor hall, so that is probably the reason. A helpful volunteer cleared up the confusion for me.
GAMA also scheduled a "mandatory" (their words) press conference by the show sponsors for all press badge holders from 1-4 on Thursday…at the same time the exhibitor hall was open (from 1-6).  I consider exhibitor hall time precious because I can control how my time is spent and with whom I spend it.  Some companies call for only a 5-minute chat, others take longer.  Press conferences are just not efficient for multiple publishers in my opinion.  I understand that the show sponsors want exposure, but until GAMA starts paying for my expenses they do not get to decide where I spend my time.  I skipped the conference entirely.  I visit every booth, so the press conference was redundant for LivingDice's coverage.
The number of attendees was like past years, but I did notice a trend towards more booth-sharing.  I heartily approve of this because trade shows are expensive and small publishers often  just do not have the cash reserves.
For future attendees a warning about Ballys; the North tower has some large suites that include a sitting area, bar/sink and a Murphy bed designed by Torquemada. Unless you want back pain and lousy sleep, avoid these rooms. Sadly these same rooms also have some of the best gaming space (large round table, many chair, lots of space) I have ever seen in a hotel room. I would die to have one of these at Gen Con.
Check back this week for the rest of my coverage of GTS 2012 starting Tuesday morning.
Trask, The Last Tyromancer